Welcome to Swamp City Fitness
Swamp City Fitness is Gainesville's newest functional fitness gym. We are conveniently located in Gainesville with over 4,500 square feet of indoor gym space. Our focus at Swamp City Fitness is the functional fitness methodology of training. This prescription is constantly varied, high intensity, functional movement.
Our commitment to our members is steadfast. Once you commit to starting here, you will become part of a community committed to a higher standard. Let's get started!
Girls of Summer
The Girls of Summer are coming to Swamp City Fitness! Each week for 16 weeks we will tackle a new benchmark workout, culminating in everyones favorite, Fran.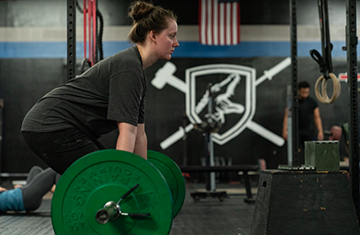 Workout of the Day
View the most recent WOD and an archive of all Swamp City workouts. Our coaches work hard to provide challenging programming for athletes at every level.
Florida's Best Bootcamp: Gainesville
Swamp City Fitness is proud to host Florida's Best Bootcamp: Gainesville, a six week bootcamp style fitness class led by our well trained staff of fitness professionals.
Next bootcamp begins on January 11, 2020 at 8:00 am and lasts for 6 weeks.
Interested in learning more?
Debbie

Deb, Swamp City Fitness Member

The feeling of family and the get back to the basics mentality! It makes it possible for everyone to participate at any fitness level.

Jen

Jen, Swamp City Member

The support and friendliness has has helped me take risks and fail without feeling like a failure.

Randy

Randy, Swamp City Member

They have welcomed my family with open arms.